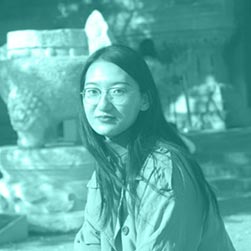 As a part of the Worlds of Lithium work-package on China, Yuanhui's research investigates how lithium-battery vehicles are delineated in the public discourse and local newspapers. It is notice-worthy that the lithium-battery vehicles are often linked with positive words such as "promising, leading to a better tomorrow, more comfortable, high-tech, environment friendly" and so on. Additionally, the industry of lithium-battery vehicles is portrayed as an appealing field of consumption and financial activities. In the public discourse, the success of the lithium-battery vehicle and its production is taken for granted and is linked to the idea of a future that is better than the present moment in many senses.
Yuanhui's research compares these public portraits of EV with the daily life perception offered by taxi drivers, a group that is in the most tight interaction with lithium in the form of lithium-battery vehicles. Taxi drivers report that the capacity of lithium batteries wear down significantly as time goes by, meaning that they have to charge the car at least once everyday, thus prolonging their working time to make up for the time spent on charging. They tend to work under the worrying possibility of power running out. Yuanhui's research explores how this technological vulnerability reshapes understanding of 'work' and 'labor', which became more acute during the pandemic, when repeated lockdowns and strict Covid restrictions had caused economic downturn and a sense of uncertainty of life.
Yuanhui's research was conducted in Guangzhou, China, one of the Chinese cities that have shown the biggest enthusiasm for the adoption of lithium-battery vehicles. As the capital city of Guangdong province, which accommodates a leading portion of manufacture of the lithium battery, Guangzhou has issued the policy to gradually electrify non-private vehicles, namely, to replace gas-power vehicles used for public service or profiting with lithium-battery vehicles. In 2019, 1500 lithium-battery vehicles were put into use as taxi cars in Guangzhou, and the local government expected to have the taxi cars completely electrified in 2-3 years. Also, by offering a purchasing subsidy and loosening the restrictions on license plate issuing, Guangzhou government has been encouraging the consumption of the lithium-battery vehicles. In the public discourse, these efforts to boost the use of lithium-battery vehicles are depicted to be corresponding with the goal of Carbon Peaking And Carbon Neutrality, which is proposed by the Chinese government as a response to the worldwide issue of climate change.
Yuanhui Ding is a second-year student at the Research Master of Social Sciences at University of Amsterdam. She was borned in China and raised in a geographically and socially marginal region, Gansu. She has studied and worked in big cities such as Beijing, Shanghai, Guangzhou and Amsterdam, and is interested in how working-class and indigenous people experience societal and technological Chinese transformations. She has an interdisciplinary background in sociology, anthropology and ethnology, and is interested in human vs. non-human relationship, materiality, and translation.